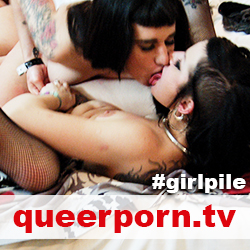 Webmasters, bloggers, opinion-makers, & retailers!
Your companionship, and traffic, means a lot to us. That's why we are now offering a 30% commission for all affiliates, and a 40% commission to our queer porn stars.
Any time you mention us, link to us, promote us, or tweet about us, you can make money. Not just once, but a monthly income when you bring us members. And after our first year of business, we are happy to say that 100% of our members are multi-month subscribers. Our loyalty runs high. And now that we've won a Feminist Porn Award and an AVN Nomination, we are pretty sure that your fans will become our fans too.
Banners
Instructions
– Open the "Sign me Up" link above. We suggest opening in in a new window or tab so you can easily come back here and pick your banners.
– If you already have affiliate accounts with other websites that use Verotel, click the "I am already a reseller" link in the lower right. Otherwise, fill in your country of residence and click the "I am a new reseller" in the lower left, and continue to fill in the information they ask for. If you have any questions, e-mail courtney(at)queerporn.tv
– They will ask you to pick a banner, it doesn't matter which one you pick, as you'll be able to pick one from this page or make your own (or ask us for something custom) after you sign up. That's why there aren't very many options in this part of the sign up process.
– After filling out the form, you will get a confirmation e-mail. You are now a confirmed affiliate, and any traffic you send us using your custom link will make you your percentage of that sale.
– PLEASE, save your confirmation email, as it has your special link. You'll need it!
– Place your new banner in a few places that are easy to find, like a side bar on your website or Tumblr. Upload your image to your own site and link it using the HTML provided by Verotel in your sign up confirmation e-mail. This link will take you to our homepage, and if they purchase something on that day or browser session, you get paid. Even if they leave and come back later while their cookies are still uncleared!
– If you want to link to a specific post or page on QueerPorn.TV, use the link Verotel gave you, and add on to the end of it "?URL=" followed by the full URL of the page you want to link to – for example:
http://links.verotel.com/cgi-bin/showsite.verotel?vercode=44183:9804000000912807&URL=http://

queerporn

.tv/wp/lyric-seal-

jiz

-lee-going-here
– We will HAPPILY make you a custom banner that fits your sits specs, featuring a highlighted scene or performer. Just ask! courtney(at)queerporn.tv
– With your Verotel ID and Secret you are able to login and review your commissions. The Verotel Control Center can be found at http://www.verotel.com/login.
– Please ask us if you would like to review a scene, or the entire site, for your blog, website, et cetera – we are more than happy to give you a free pass as long as you write about us!!