As we unleash part two of Wolf Hudson and James Darling's bathtub extravaganza upon the world, we thought we'd take a moment to reflect on filming this wet and wild scene.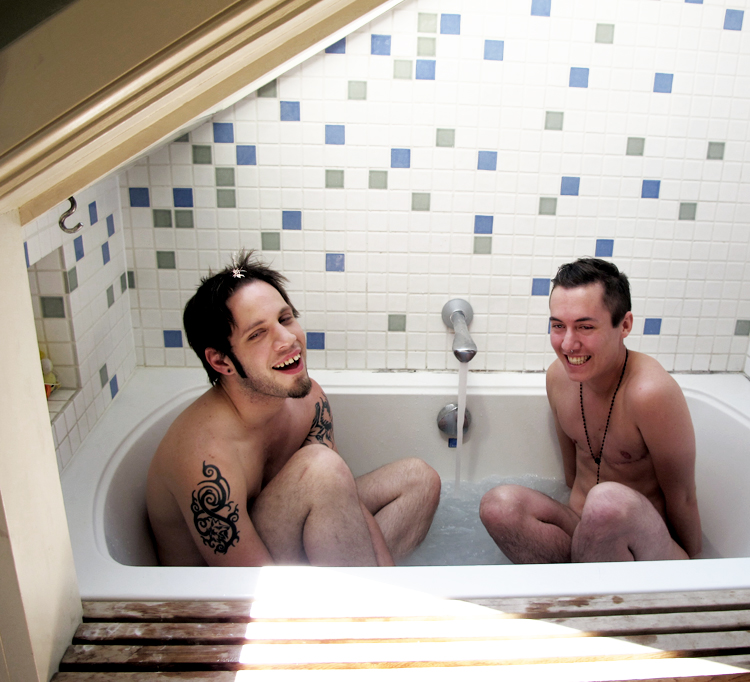 Wolf and James' manfest is near and dear to my heart for many reasons. First of all, do I love me some boy-on-boy sex. It's no secret I search for gay male porn when I want to rub one out. All that hairy grunting and growling…Mmm! So creating such a scene was a pervert's dream cum true!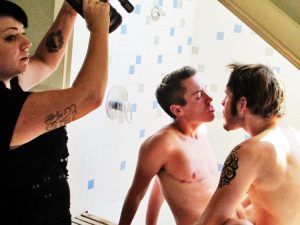 I just could not resist the urge to pornographically immortalize the skylit bathtub and gorgeous green backyard of my beloved Oakland home. Courtney shot the video on her fancy Sony HDR.
The first edition of this boylove fuckfest showed instant popularity. We got some feedback confirming that one of QPTV's goals was working; people who might not have expected to be aroused by a transman and a cisgendered man getting it on were converted by this raw carnal enthusiasm these guys have for each other's bodies. They smooch, fuck, suck, rim, and cum bathed in natural sunlight and soapy water.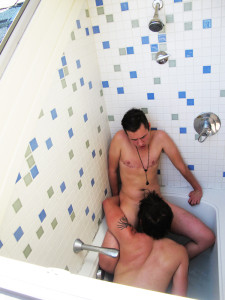 But don't take my word for it; I was just watching from the sidelines. This is what the performers had to say about their time in the tub:
Wolf Hudson: "I've been intrigued by FTMs for quite some time and find them fascinating. The fact I got to work with James Darling was a treat. He is a very sexual man and fantastic lover. Pounding his tight pussy and seeing him really enjoy was electrifying for me… I love seeing that. I look forward to doing more shoots like this for QPTV in the near future indeed."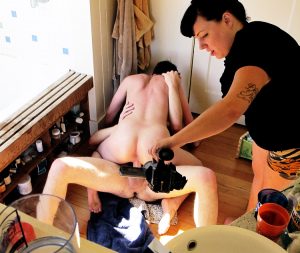 James Darling: "This was my first shower/bath scene! And it was with Wolf Hudson, what a dreamy talented stud, damn!! HE PICKED ME UP AND BANGED ME AGAINST THE WALL. No one's ever done that and I had my doubts for a minute, but Wolf totally had me the whole time. It was also really hot to see the neighbors out the window while getting banged. That'll be one for the spankbank for years to come. Thanks for the gift that keeps on giving, QueerPorn TV!"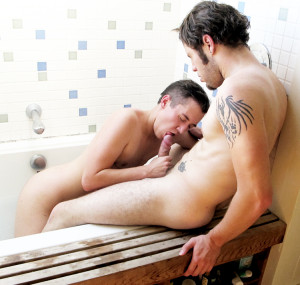 We're happy to serve, Mr. Darling!
Parts One and Two of Wolf Hudson and James Darling will doubtlessly worm its way into your spank bank, too!
XOXO
Tina