I played rough for Queer Porn TV and I loved it.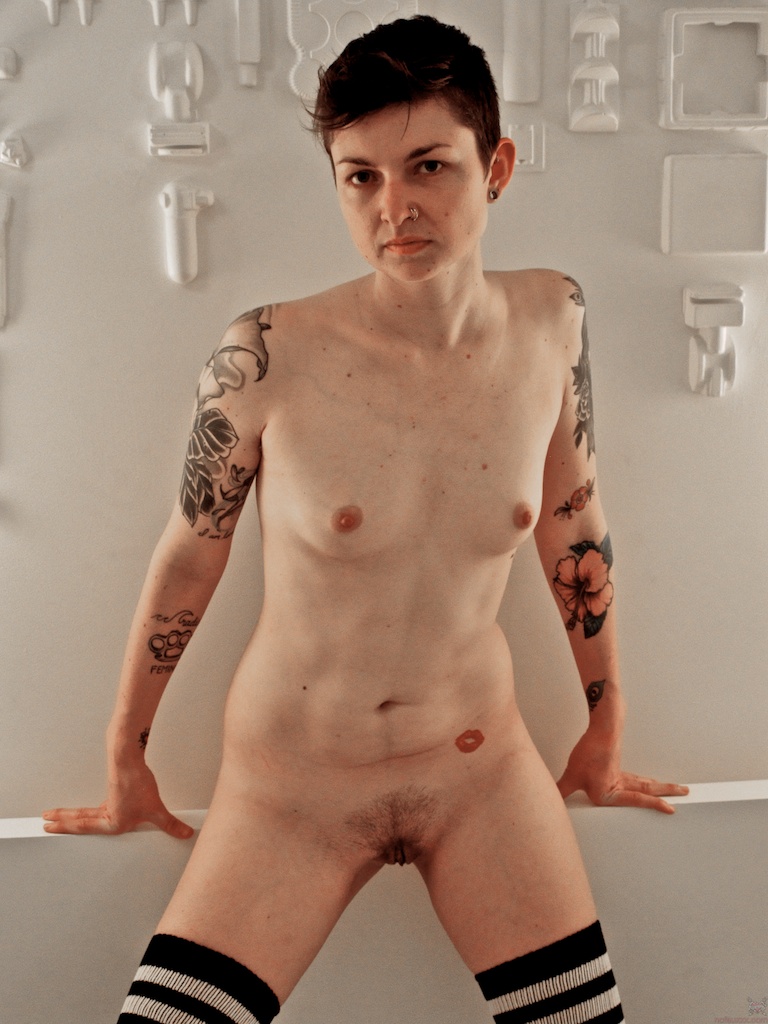 Location: San Francisco (via NYC)
Identities: queer, switch, deviant, radical, feminist
What makes you queer? i'm queer because i am not afraid to deviate from what is expected/demanded of me. i relish it. i want to surprise and push boundaries, those of society and even more so my own. i love and celebrate most those parts of myself that are so often used to shame. i am proud to be able to make the choices i make and to ask for what i want.
How has being a queer porn star changed your life? performing in porn has first of all brought me into the company of truly amazing and inspiring people. i feel so lucky to be challenged and engaged by such hott minds. additionally, i have been able to strengthen my connection to myself, my body, and my sex by taking the time to reflect on the kind of sex i want to be having, and the way i want myself and my desires represented.
Pitch your life as a reality tv show. watch as life unfolds on the world's first and only nudist-colony-slash-cat-ranch, where the pussies are wild and free. listen in on discussions of the health and environmental benefits of corn-based litter, get instructions for the latest and niftiest crafting sensations, and learn what makes these kitties purr.
Dish about a hot exhibitionist experience: the first (and only) time i watched myself in porn was at a party i was having at my apartment. for some reason i decided it was best to share this experience with friends, co-workers, and strangers. once the scene was on, hands and mouths quickly began roaming. pairs began breaking off into different rooms. i remember being held up against the bathroom door with someone pounding on the other side wanting to get in. it became one of those nights no one ever talked about afterward.
What are your favorite sex toys? i thoroughly enjoy sex toys and have quite the collection, but my all time favorite, no fail sex toy would have to be hands. incredibly sexy and endlessly versatile.
Tell us about your QPTV scene. i am a huge fan of QPTV and was super honored when i was asked to be a part of the magic. it seemed appropriate that it would happen amongst the excitement of the Feminist Porn Awards week in Toronto. Drew Deveaux immediately came to mind as my dream scene partner. i wanted to push myself while sharing an authentic experience that showcased the kind of sex i enjoy. i wanted to play rough and talk dirty, and pushing my boundaries with Drew and her filthy/brilliant mind felt safe yet utterly hott. after talking, we had a general idea of what we wanted to do, but after degrading/slapping/kicking/spitting on Drew, I was surprised and delighted to have her flip the tables on me. she is a powerhouse of sex. due to technical errors, we actually got to film the scene twice! how lucky can one gal get?