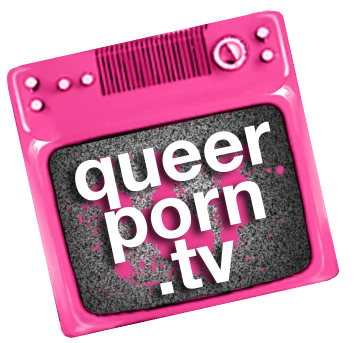 independently owned and operated by Courtney Trouble
co-created by Courtney Trouble and Tina Horn, November 2010
QueerPorn.TV is owned and operated by Courtney Trouble, and hosts exclusive content made by Trouble as well as a slew of other directors – all queer, all experienced sex workers. For a monthly fee, members have around-the-clock access to the huge variety of creative pornographic work that ranges from prolonged clothed make-outs, to sweaty marathon sex, to loving BDSM play… sometimes all within the same scene. This work breaks the machine and comes from the hearts of the people on camera, and is uniquely shot within it's own community – never a studio.
Furthermore, QPTV is an inclusive space and gives back to the community via it's former project QueerPornTube, and it's current project QPTV FREE which offers full length films and revolutionary shorts at absolutely no cost – and our YouTube channel which posts documentary-worthy interviews with everyone who has ever shot for the site, with no ads.
QPTV is artist-run and fully funded by subscribing members.
Winner, Best Website, Feminist Porn Awards 2011, 2015
X Biz Nomination, Specialty Site of the Year 2014, 2016
AVN Nomination, Best Alt Porn Site 2012, 2013, 2016
Founding Manifesto by Courtney Trouble and Tina Horn
QueerPorn.TV is hardcore sex positivity, public access to the sexual underground.
QueerPorn.TV is queer porn made by and for queer people (and the porn fans who love us!)
QueerPorn.TV facilitates spontaneous, nasty sexuality with a transparent sleaze that boldly proclaims we are not ashamed of our identities and desires
QueerPorn.TV is a culture force in and of itself in addition to documenting expressions of the freedoms associated with queer sex
QueerPorn.TV does not say what is and is not sex, what is and is not hot, and what is and is not queer.
We intend to showcase sex that people want to perform as opposed to the sex that we expect audiences wants to see. This project is intended to be a documentation of exhibitionist queers having a great time.
QueerPorn.TV brings porn off the screen and into the community, by hosting dance clubs, film screenings, photo booths, and play parties all over the world. Bringing queer people together to celebrate sexuality and talk about porn.