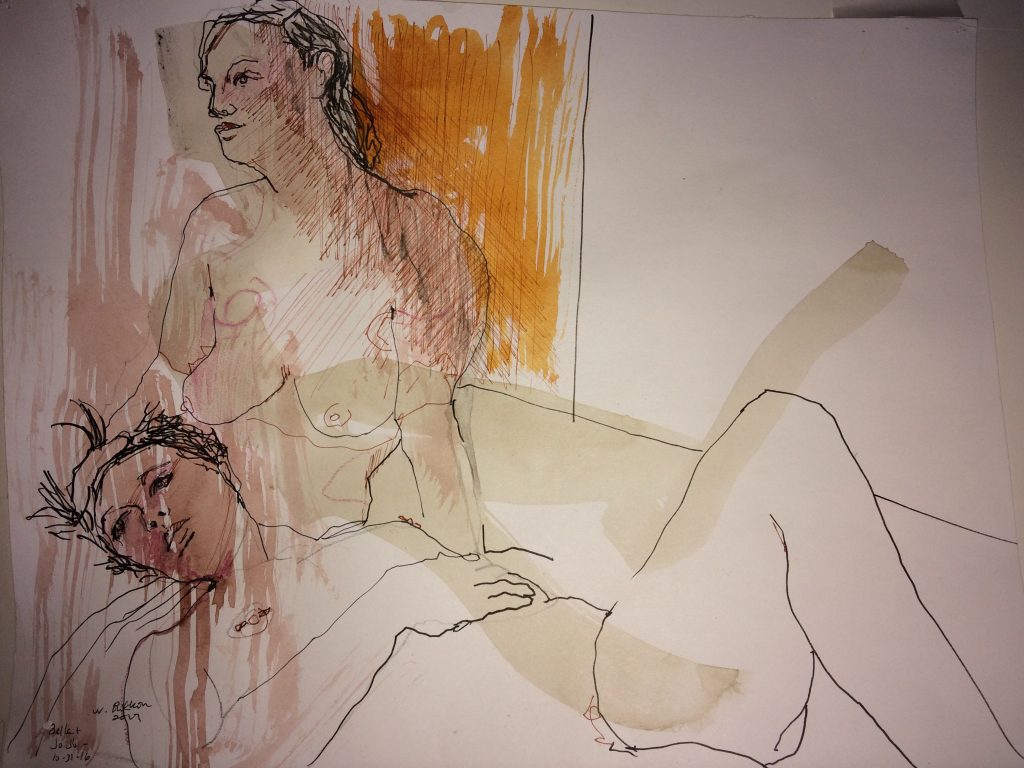 BELLA VENDETTA | NOV.17.2018
Looking to supplement the income you make as a dancer?  Not ready to quit and get a full time job and don't really wanna change your schedule enough to get a part time job either?  Need something positive to do in those lean winter months before everyone gets their taxes back?
Think about becoming a nude figure model.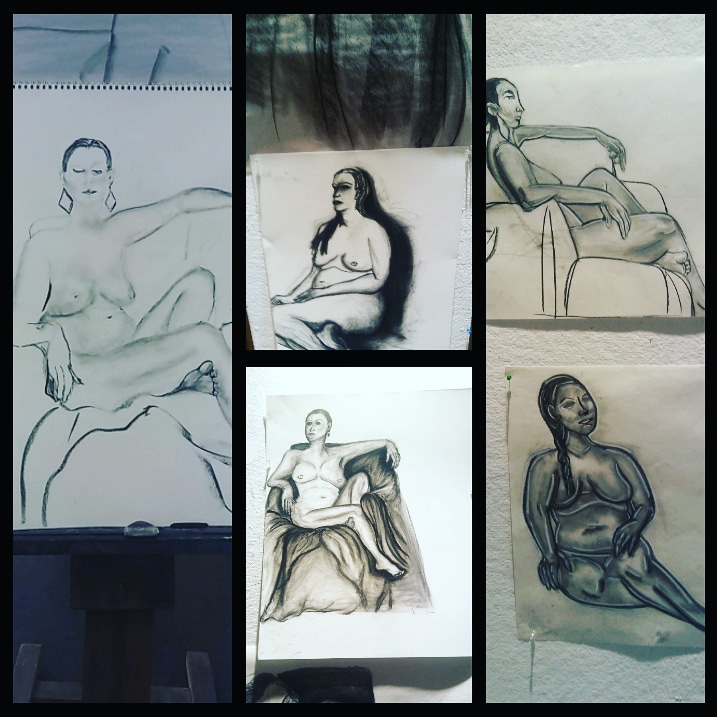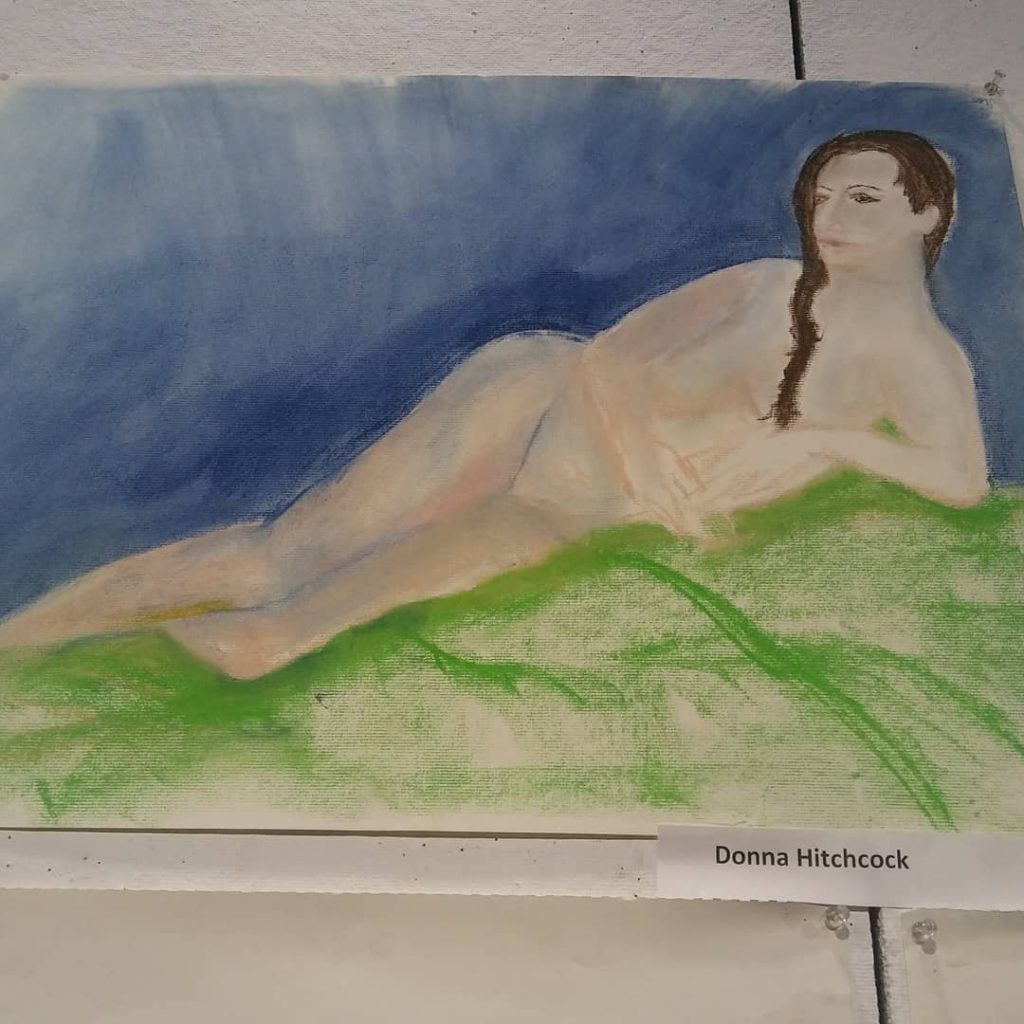 Sex workers have a long history of playing the muse for talented artists, famous painters and newbie students alike.  There's even this great list of some well known pieces you may know where the model depicted was a sex worker. It makes sense, we are a group of folks who are at the very least comfortable with our own bodies enough to share them with others.  If you are a dancer you're used to being on the stage with all eyes on you, the center of attention.  Follow in the footsteps of the whores of yesteryear and use your body and sensuality to inspire artists.
There's a few different avenues to go down depending on where you are located regionally.  Some cities and areas have THRIVING art scenes with LOTS of different groups and get together.  I live in a very obscure and rural town in western Massachusetts, and there are at least 8 active groups at any given time and different times and days.
Last year I went through the entire winter season some how getting by on figure model gigs.  I was working at least four days a week, and sometimes doing more than one session in one day. The pay is not amazing.  It ranges from $15-30 an hour. More for private sittings; which we'll get into later. Google is your friend.  Lots of places have art schools, groups or workshops held at galleries or even museums.
Look at Universities and Colleges in your area.  Check out the classes, if there's a human figure drawing, anatomy drawing, or life drawing beginner class they usually need models. Search Facebook for life drawing groups specific to your area and find listings for local groups.  Sometimes even calling the local library and art schools and asking directly is a great way to find out about lesser publicized events.  Sometimes those are even the best gigs with serious painters and artists looking for experienced models. Drop an email to the art teachers or Art Department Head and ask if they are looking for models.  Most college based classes book the entire semester one semester before so keep that in mind.  But even if they reply that they are currently booked, send a polite response saying please let me know if you have any cancellations, otherwise keep me in mind for next semester!  I have gotten some of the best figure model gigs because someone else called out and they needed a replacement.
Aside from high education: search craigslist.  Believe it or not…MOST colleges advertise looking for a model on craigslist.  I don't know why, but it's been proven true time and time again.  Aside from organized institutions using CL to find models, a lot of solo artists use it to find models to sit for them on a custom basis.  And just like booking a photoshoot from a sketchy place like craigslist, ask to see their portfolio and for references from other models that have sat for them.  Which brings Me to My next point.
Meet other figure models.  Sometimes the best gigs come from word of mouth.  If you are in an area with a lot of galleries, artists and Universities, chances are there is a tight knit group of at least 20 models that are working and rotating to each different class.  It's not uncommon for models to cover all the bases and sit for lots of different classes.  Use google to just type in , your city, figure model and see what comes up.  Probably stuff that you didn't even know about!  Use facebook to look for figure model networks in your area.  There's TONS.  Join them and meet the players in this strange little world.  There's even nation and international fb groups where people network, talk rates, show off work and build community.
Sometimes wealthy groups of painter hobbyists get together at one another house and pay a model to come sit for the group while they drink wine and play classical music (those kinda gigs pay the best!)  With the popularization of events like "paint and sip" and "drink and draw" there's an increasing number of places to model.
Check out to see if there are any Dr. Sketchy's Anti Art School groups in your area.  Dr. Sketchy's is a burlesque life drawing event, usually held at a bar that incorporates costumes and has themes.  Dr Sketchy's are also super accepting of sex workers so it can be a great starting point for figure modeling for the first time. DrSketchys.com to search for active branches and their locations.
In My experience, groups, organizations and individuals who book you will continue to book you again and again if they like what you do.  SO once you've secured  a booking here's some tips to get the most out of your experience as a nude model:
Arrive early. Not on time.  Sometimes gigs are unpredictable and it's good to get a lay of the land before you begin your work.  Especially if it's at a place you don't know.  Some campuses are huge and easy to get lost in.
Be aware that your dressing room might be a closet, teacher's office or bathroom stall so arrive prepared.
Wear minimal, natural or even no makeup.
Wear loose fitting clothing that will not leave lines and mark on your flesh the day you are modeling.
Wear your hair up, most classes will want to be able to see and paint your face.  Even if your hair is not fully up, something to the side so at least half your face is visible is good.
STRETCH.  Stretch before you figure model, stretch on your break, stretch again after you figure model.  Seriously.  It's really hard!  It can do a number on your body.
Most classes start out with some quick gesture drawings to warm folks up.  1-5 minutes long, and then move on to 10-20 minute poses and then finally one long half hour to one hour long pose.  All classes differ however, and some are just one long pose for several hours (with breaks of course) or all short one minute gesture poses, or can be broken up into 20 minute blocks.  Some classes artists will be drawing JUST your face and may want your hair or makeup a certain way.  As a general rule it's good to ask ahead and find out what type of class you will be siting for.
Staying completely still is not easy.  Don't drink a lot of coffee before doing this!  Practice practice practice at home.  It can be hard not to be  a hoe when you're used to positioning your body for the purpose of eliciting a sexual response.  But try to remember to be demure.  No open leg poses.  Do your research and find positions you like.  There's even apps you can download for inspiration and ideas. Find at least five solid poses you can hold for various amounts of time before it getting uncomfortable.  For instance, I can do certain poses on My knees for 1-5 minutes but if I try to be on My knees for ten minutes without shifting any weight it gets very uncomfortable.  For long poses like one hour I know I'll have to be seated or laying down.  I can't do long standing poses without feeling like I'm going to pass out so that's a no for Me.  Know your own bodies limits.  Practice while watching TV.  Can you hold one pose for a full half hour show without moving or talking?
Don't hurt yourself or put yourself in pain for the sake of a great piece. If you find yourself in a lot of pain in some cool pose you thought would be easy to hold but midway through your arm went numb and there's a shooting pain in your leg…just say hey y'all I know I'm supposed to hold this for ten more minutes but I need to take a break to shake it off.  No one will be mad. Sometimes, if artists really want Me to do some super difficult pose for a group or class I tell them it's too difficult for the rate they are paying Me, but remind them that I am available for private or custom bookings starting at $100.  It pays to have a background as a stripper.
The groups you will sit for can range from shy, young students who are giggly and a bit uncomfortable with nudity to experienced oil painters and rich folks who have expensive hobbies.
Just remember YOU are in charge.  The entire experience relies upon you and is dictated by you.  If you need a break, everyone needs to take a break.
Things to bring:
A bag to keep your things in
A mirror or compact to check yourself
WATER!
Lip gloss or balm
Baby wipes
A robe
Slippers
Lotion
A clean sheet or blanket that you can put over wherever they want you to model
A scarf or smaller towel.
A pillow or two
Snacks,
Fuzzy/comfy pajamas or sweats you can easily slip on and off.
Let Me get a bit more in depth on some of these items.
It's kind of like a modified dance bag.
I am a huge fan of water.  I always want everyone to be well hydrated. It may seem like an easy gig compared to what you are used to as a dancer, but make no mistake, this is tough work that takes it's toll on your body.  Don't assume water will be available to you.  Bring your own. Same with snacks.  Just like with dancing, I always encourage My sisters to bring along protein rich snacks to help them power through.
Just like with water, don't assume a mirror will be available so be prepared and bring your own.
Lotion!  Well, you can finally wear all that glittery, shimmery lotion that everyone says strippers always wear but we actually don't!  You won't be grinding on anyone and there's no risk of contaminating customers or ruining the night of your co workers.  Bring lotion and lather up before modeling, even if you aren't dry, it'll make your skin glisten and the contrasts and gleam will make the artists happy.
I really like bringing fuzzy pajamas pants for these cold New England winters, to warm up in between poses or wear for bathroom breaks.  Same with slippers.  I keep them right near Me when I am posing so I can slip them back on and My feet never have to touch the cold, dirty ground.
The most essential elements of the figure model bag are the robe and the sheet/blanket.  If you bring nothing else, bring a robe and sheet.
Once you arrive and figure out where you're going and meet the instructor, they will show you where you can get ready.  Getting "ready" means taking your clothes off, freshening up your lipgloss, straightening hairs and putting on your robe and slippers.
And then you take that very important sheet or blanket you brought with you and drape it over wherever it is you will be arranging yourself to pose.  The instructor or teacher might say, oh hey, we have sheets for you to use.  I am here to tell you, don't trust it.  You just cannot truss it friends.  Bring your own, they won't be mad.  Then you KNOW what you're putting your naked butt down on and you know it's clean.  You have a lot more control here than at the club so exercise it!  I like to use the smaller scarf or towel to use to cover a stool or chair if they want you to sit in one.  You can also use your robe for this in a pinch.  As a general rule, I do not like to put My naked butt on random surfaces.
Make note of your surroundings.  Is it cold?  Ask if they have a space heater (lots of places do). Too hott, ask if there's a fan.  Is there a chair you can sit on for longer poses?  A stool to lean against.  Are they providing any cushioning or should you utilize that pillow you brought to cushion your tush.
I think you should wear your robe up until you are about to do your first pose.  My girlfriend, who also models, like to walk around naked but I've seen it make folks uncomfortable and I think it's a lot more professional to keep it on until you are finally standing where you need to be, and then do the big reveal.
The big reveal is a big deal.  Yes, you've been naked in a club, under dark lights, in a sexualized setting.  But have you ever stood stark naked under bright lights in a silent room while five to twenty people stared at every inch and fold and curve of your flesh?  No heels.  No sexy positions.  No vamping it up.
Don't try to really have facial expressions, it'll get too hard to continue to hold and you'll end up twitching, I swear every time.  Just soften your face.  Look off into the distance.  Fix your gaze on one spot.  Particularly for longer poses so that if you have to break you know where to bring your gaze back to.  Here's a tip to avoid awkwardness.  Try to gaze high.  Above the heads of everyone.  It'll help bring out the whites of your eyes and make them easier to draw AND as an added bonus could save you from weird embarrassing things.  Sometimes artists move around while drawing so it's totally possible that if you fix your gaze straight ahead someone will end up sitting RIGHT directly in your line of vision and it will be weird to stare at them for an hour.  One time an artist moved to where My line of vision was and I ended up staring at his crotch the whole session and that was horrible.
Try to make interesting shapes with your body, that's what folks want to draw.  Mix it up, have some standing poses (I recommend to do shorter poses standing), some sitting, sitting in different positions, laying down.  Don't forget to turn directions.  Everyone in the room's perspective is different so some people will be drawing your profile, some drawing your back some your face straight on.  If it's a class that requires lots and lots of position changes then don't forget you can sometimes do the exact same pose, just angled toward a different part of the room.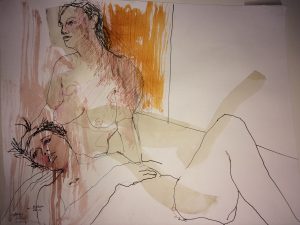 Just like with stripping, you'll have your good days and your bad days.  Sometimes those rich hobby artists are really entitled and rude and will loudly complain that they don't like the pose you are doing.  There's one in every bunch.  Some complain-y high maintenance artist.  Sometimes artists are just new and not great at realism yet and might make your head super tiny or draw you long, short and fat.  Sometimes I've left a session wondering: do I REALLY look like that OMG!  Sometimes you luck out and get a whole class full of actual angels.  The current intro class I am modeling for the winter semester is all women who are full of compliments and love to draw Me like I am a Goddess.
It can be really a really wonderful and positive experience.  A room full of folks can tell you how beautiful you are.  One time when having a really rough time an artist just drew literally an up close detailed piece of My fat rolls on My stomach while I was in a sitting pose.  She saw what most have been the horrified look on My face and said "I'm so sorry you're body was just so beautiful and soft and feminine I loved the beauty in the folds of your skin."
Yall, no one has ever said anything like that to Me and I just about cried. (I'm getting teary remembering it now)
On some occasions you even get to keep the art. Sometimes the art ends up in gallery shows. It's a really cool feeling to be the inspiration for art people to create.  To have your body studied and valued and rendered.
The feedback and conversations I have received in My more than ten years doing this as a side gig and being connected to other models and artists all over is:
People REALLY want diversity with models.
Thin, white and conventionally pretty is probably the majority of folks doing this work.  So thick women apply! Women of color I strongly urge to seek this work, there's a definite lack of brown models being drawn and showcased on gallery walls.
If you have something interesting or unique about you that makes you fun to draw and beautiful to look at this could be a great side gig for you.
Be aware that most Universities and Institutions will need you to fill out a W-9 and you will be paid later by check.  Some places you'll get cash on the spot and in settings like Dr. Sketchy's you'll also most likely get tips.
Go forth and make art using the work of art that is your body.
---
This article was originally on MyAlterEGo, a dancewear store owned and run by a stripper!
All Photos are from Bella's IG instagram.com/BellaVendetta
About the Author:
Bella Vendetta is a 16 year veteran of the adult industry, has been modelling for over  a decade as an art model for painters and art classes.  She's brought a lot of folks into the figure model community and currently is still reaching out to as many classes, schools and workshops she can find to add to her roster.
You can find her schedule for open to the public drawing groups on Trouble Films Calendar of Events. She currently is the host and organizer of a western MA branch of Dr. Sketchy's Anti Art School, with a diverse cast of new models, themes and costumes each month.
Visit facebook.com/DrSketchys413, instagram.com/DrSketchys413, and
---