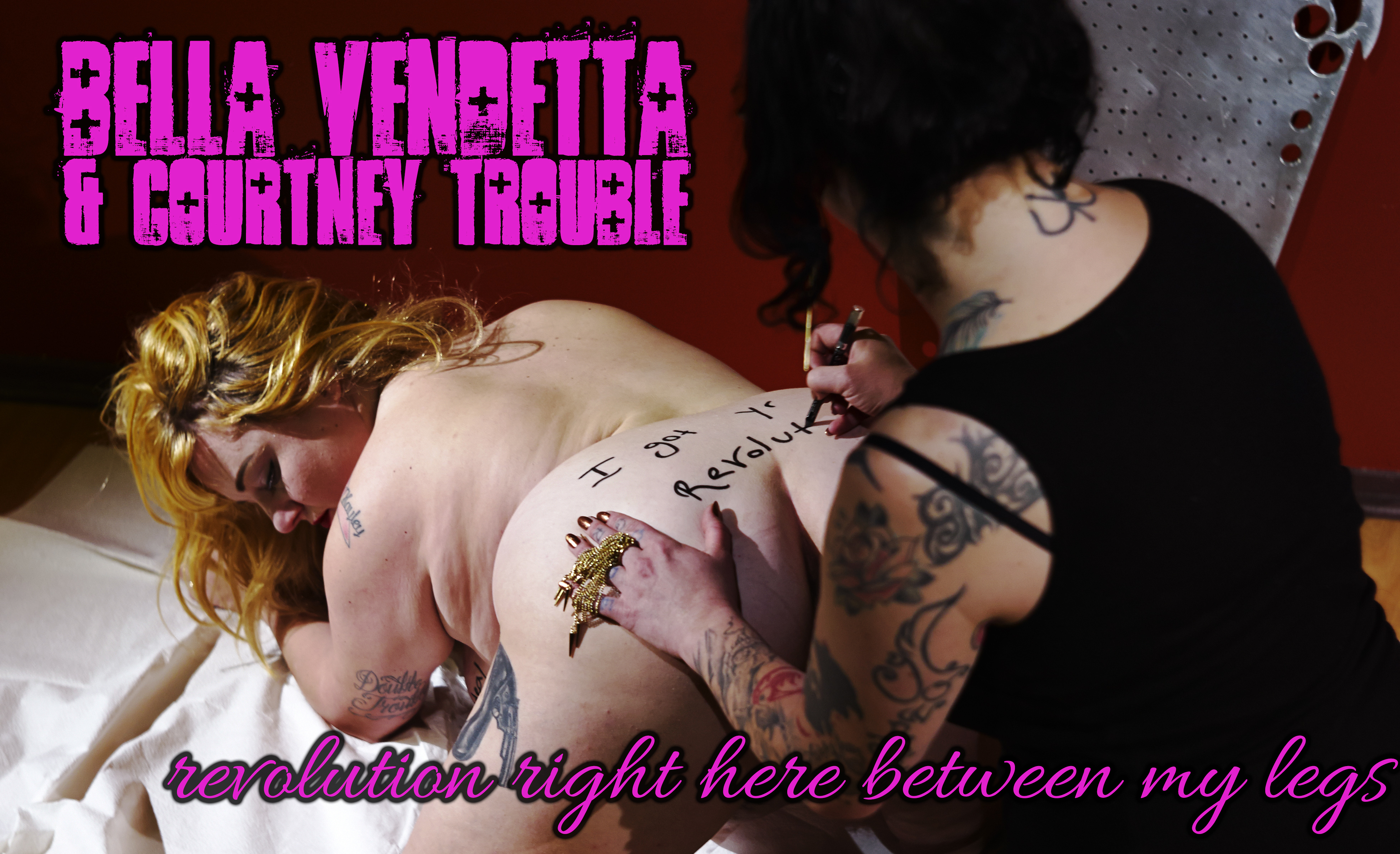 Revolution right between My legs:
Courtney Trouble surrenders to Bella Vendetta as Bella writes poetry across their gorgeous naked body, covers them in hot wax and then allows them to break free.  Altporn/Artporn at it's finest.  Femme on femme performance art.  Softcore fetish nudity.
Artist Statement, Bella Vendetta:
"Revolution between My legs" started as a spoken word piece an angry 17 year old Bella Vendetta would perform at coffee shops around New England.  It later evolved into a few different poems, each ending with, I got yr revolution right between My legs.  For whatever reason, My young feminist self found this phrase very important, very empowering and very healing.  Courtney Trouble and I had been online crush friends for the better part of a decade, or at least since alt porn first became a thing.  When realizing we may be in the same city at the same time I knew we definitely had to shoot something together.  Courtney said they would be My canvas and I took it quite literally.  I wanted to write some strong poetry on their beautiful flesh and felt the "Revolution between My legs" series had to be involved somehow.  
I wrote a brand new piece incorporating it and it felt really perfect.  Courtney surrendered to Me the day of the shoot so perfectly.  They didn't even know what I was writing, but just let their flesh become a vessel for the art.  They giggled and moaned with pleasure through the pouring of the hot wax and understood My concept for breaking free f the rigid wax.  Courtney looked so beautiful, I am so pleased with the tone and the way everything came out.  I am so glad to be able to share it for free with all of you here.
The film was shot and edited in NYC, and was first shown publicly in 2015 at the NYC Queer Porn Film Festival, and then in 2016 in San Francisco at the SF Rubber Salon
About the cast:
Courtney Trouble and Bella Vendetta are two alt porn/queer porn veterans who have seen the genre explode and change since before it was even a genre.  They were online friends and crushes for many years and finally got the chance to meet and make this film in 2014.
shot and edited by Heartless Productions www.heartlessproductions.com
stills by: Atom Moore aka Molecular Atom www.molecularatom.com   
Produced by: Beautiful Revenge Productions www.facebook.com/beautifulrevengeproduction
Written and Directed by: Bella Vendetta www.MistressBellaVendetta.com
music by: Princess Tiny & the Meats
Please consider supporting the artist by purchasing a clip related to this video in Bella Vendetta'a kink shoppe clips4sale store.  There are longer versions of the raw video without music, and even some behind the scenes from the day of the shoot.
Find a full list here:
http://clips4sale.com/77669/bella-vendetta-s-kink-shoppe/Cat0-AllCategories/Page1/ClipDate-desc/Limit10/search/courtney%20trouble