Queer Porn TV got a LOT of goodies from our favorite sex toy makers and movers this month for use on set, and we wanted to give them all a great big merry shout out!
Smitten Kitten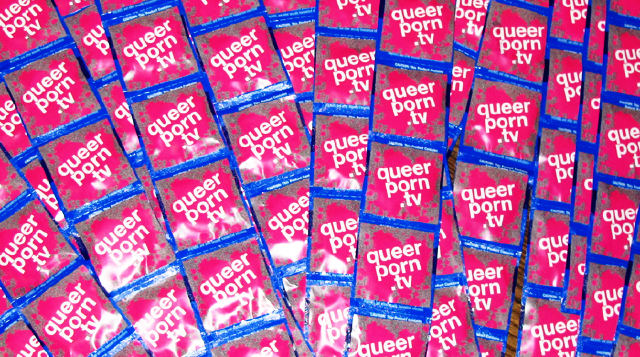 First of all, our dedicated safer sex sponsor Smitten Kitten sent us all kinds of condoms and dental dams and lube, just in time for all the cozy queer porn we needed to shoot and keep sexily safer sexed! Thank you SK for always making sure our queer porn stars are wrapped up tight!
Feelmore 510

Last week, Oakland and AVN Award's best sex toy boutique Feelmore gave us, and you, the gift of porn when they became the exclusive Bay Area retail establishment for TROUBLEfilms DVDs like our babies Girl Pile and Fuckstyles! Stop by their warm and wonderful store and give owner Nenna Feelmore a huge kiss and a thank you for carrying your favorite queer porn.
Tantus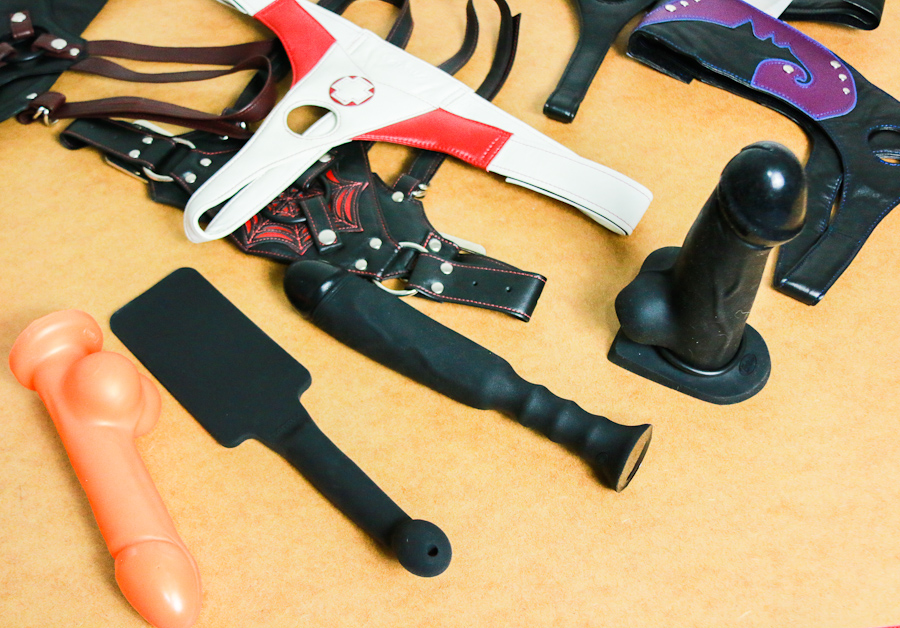 Tantus sent us a gigantic box of sex toys and their brand new line of premium leather harnesses, which got put to good use immediately thanks to strap on superstar Nikki Hearts, featured to the right. Courtney Trouble immediately claimed the white leather Hello Nurse inspired strap on because clearly, it was made for them. The rest of the toys were put in a goodie jar to be used by Queer Porn Stars in 2014! We are pretty excited to see that slapper slash anal dildo put to good use, tbh…
Fucking Sculptures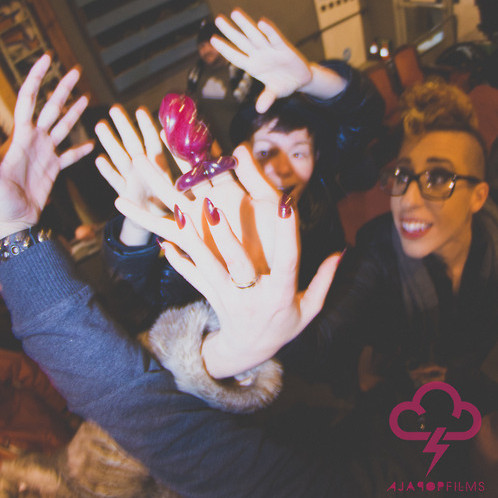 We Fucking LOVE this local (Bay Area) based glass dildo company for all these gorgeous glass sculptures they've been giving us to fuck! Most recently they helped us give away a good sized, perfectly made one of a kind glass butt plug to the wonderful queer porn stars who attended Courtney Trouble's Queer Porn Movie Party in Oakland this month.
There's some big news coming out of the Fucking Sculptures and Courtney Trouble camp, so keep up with them on twitter or subscribe to their newsletter, where you can win $500 worth of goods this week just for telling them your favorite color.
 Orgasmatronics

Who needs a magic wand when you can get off on a scientifically proven globe of vibrational power?!?! Orgasmatronics is a scientifically sexy brand new sex toy company that's bringing the sexy back into science with their new line of tech-savvy sex tools!  They sent us the X1 which is a powerful, plug in vibrational super toy with three attachments. We were floored by it's power, and it's sitting pretty in our porn studio just waiting for a queer porn star to take it for a ride!! If you want one all to yourself, click here for 15% off!
THANK YOU for all of these awesome gifts, and for all of you well wishes and warm fuzzy feelings. Indie porn is never alone, thanks to the awesome sex toy stores and manufactures who help us make and sell our humble little pornos.
Love
QueerPorn.TV
(want your product featured in a scene? want us to test drive your new home made wares? send us a message and let us know what you've got, maybe we can use it! all toys get gifted to the performers who use them unless they are very safely re-usable. we are always interested in safer sex tools, gender enhancing toys, and of course, gorgeous home made gear.)